NEW SCHOLARSHIPS at NGU
August 2022
This year, Nehemiah Gateway University is excited to announce new scholarship opportunities for students in our Bachelor's program. These scholarships will support the enrollment of highly qualified young people, with a strong emphasis on bringing in the best students in the Pogradec area and throughout Albania.
All three scholarships are initially awarded for one year, with the option to renew if program requirements are successfully met.
The Mitrush Kuteli Scholarship (see below for more information about Kuteli) offers merit-based tuition support to Albanian high school graduates. Applications will be considered in two pools: graduates from Pogradec-area schools, and outstanding scholars from throughout Albania. Gjirokastër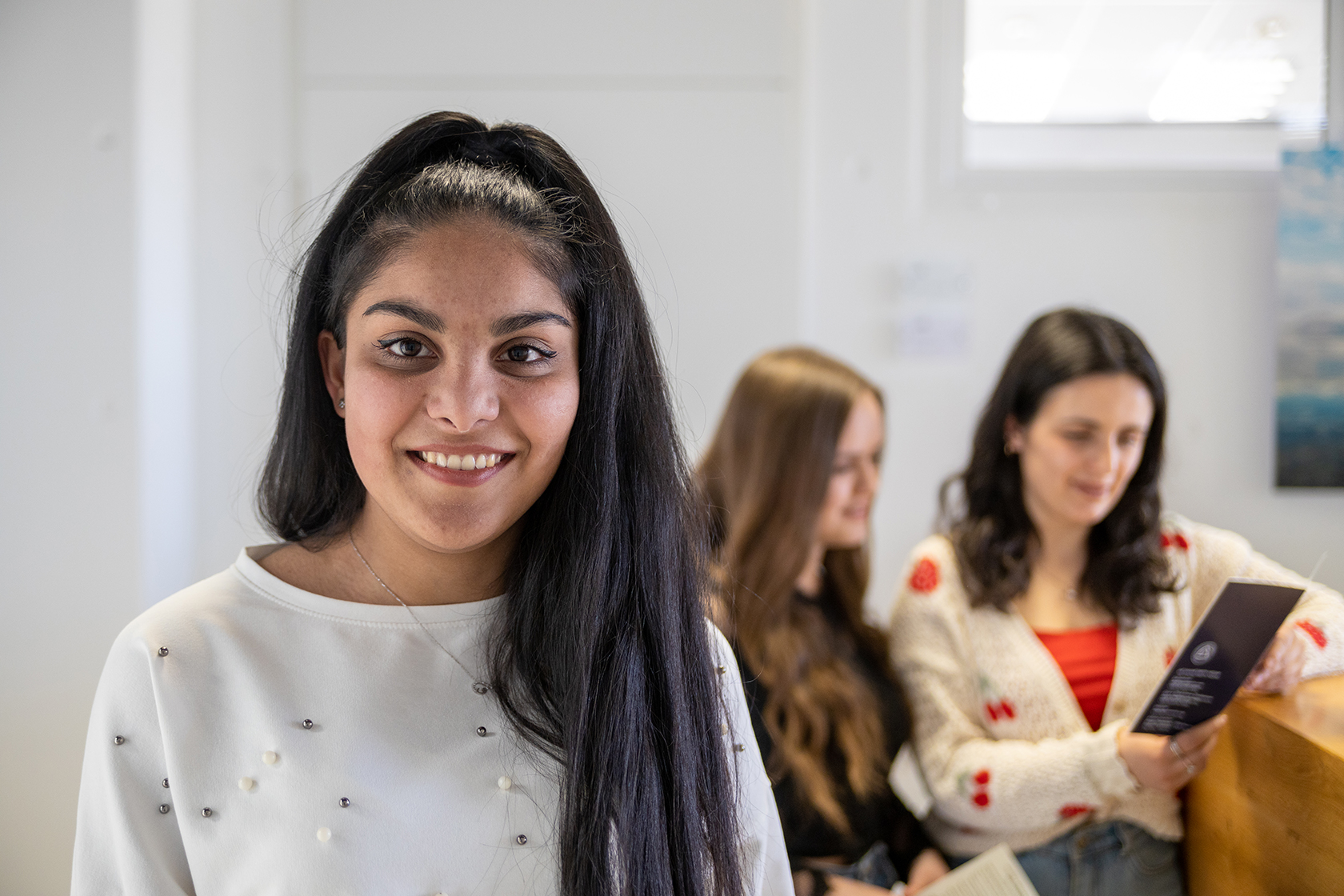 She is doing her Bachelor's degree at NGU on an Amaro Tan Scholarship.
The Amaro Tan Scholarship is named after NG's Amaro Tan Project in Pogradec, Albania (for more on Amaro Tan, see our cover story in this issue). Amaro Tan is a place where children from poor families learn the skills they need to build dignified and self-sufficient futures—and to help others in their communities to do the same. The Amaro Tan Scholarship honors this principle of help for self-help. This need-based scholarship is open to students from Amaro Tan, Nehemia School, and NG's international partner organizations in East Africa, Latin America, and Southeastern Europe with demonstrated leadership potential and demonstrated need.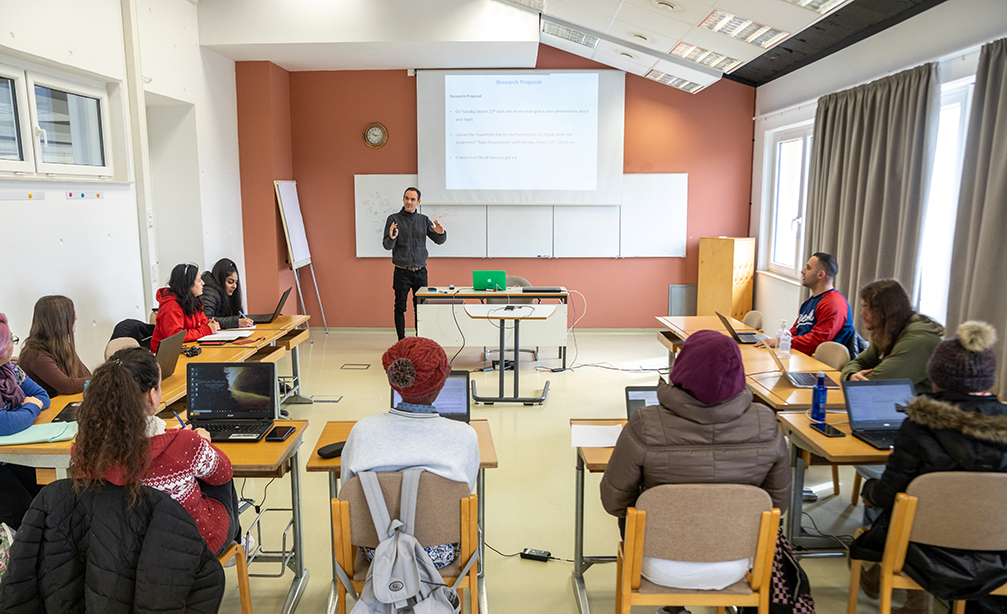 Typical for NGU: Small classes with students from all over the world.
Finally, the NG Start-up Scholarship is an outgrowth of Nehemia School's longstanding participation in the business@school program. Business@school is an international competition where students in their second year of high school research, develop and present innovative business plans. The aim of the scholarship is to help students with successful business@school entries to gain the skills and knowledge to implement their projects in the real world.
Who was Mitrush Kuteli?
Mitrush Kuteli, born Dhimitër Pasko in Pogradec in 1907, uniquely combined prominence as an economist and literary figure, equal parts poet, translator, critic, storyteller, and folklorist. He grew up in Pogradec, and studied in Thessaloniki before moving to Bucharest, Romania, where he earned a PhD in economics in 1934. After graduating, he divided his time between high-level work as a banker and economist, and as a poet, writer, and publisher.
In 1942, he moved back to Albania, where he served as an executive at the Albanian State Bank, helped found the Albanian Writers' Union, and published a series of stories based on Albanian folklore. Under communism, like many prominent intellectuals, he was jailed and sentenced to hard labor, and after his release in 1949 he was allowed to work only as a translator of literature.  Mitrush Kuteli, today recognized as one of Pogradec's most remarkable native sons, died in 1967. Nehemiah Gateway University is delighted to honor the memory of this extraordinary Albanian, who thought broadly, lived spiritually, and contributed so much to his home community throughout his life. 
International Students at NG University
When Arlinda Merdani, NG's Head of Global Operations, returned from her annual recruiting trip to Uganda in March, 2020, she had no idea that it would be her last trip to Africa for over two years (and counting). 
Shortly after she returned home to Nuremberg, the COVID-19 pandemic started. Like virtually everyone else in the world, Ms. Merdani was grounded where she was, as work switched to home offices and online meetings.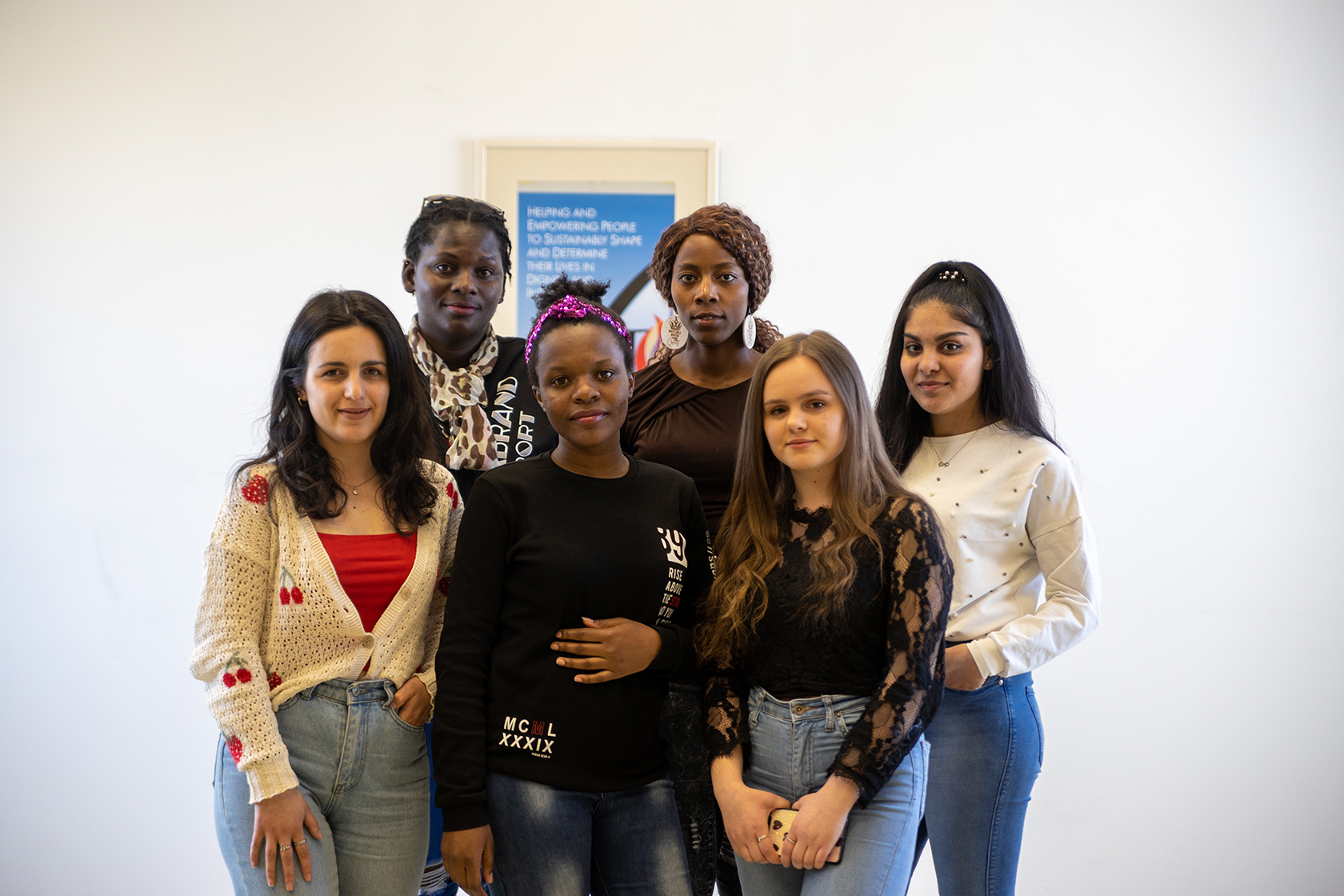 International students together with their Albanian peers.
International students who were at Nehemiah Gateway University in Pogradec also got caught up in this strange new reality. Karla, Adela, Mary, and Faith were thousands of miles from home, and yet they were attending classes in isolation, online. And that was the straightforward  part.
The curriculum at NG University is based on the German program of dual study, with classroom time balanced by a roughly equal amount of practical time interning both locally and in their home countries. How to handle local internship time when nobody is allowed to leave home for more than an hour a day, as was the case in spring 2020? And how would practical trainings  work with international travel suspended?
As it turned out, none of the international students were able to return home for their practical trainings until 2021, and local internships emphasized work around the NG  campus, along with creative activities devised by student counseling staff Gian Paul and Andy Ardueser. 
The University made the difficult decision not to admit new students in fall 2020. At that time, international travel was almost impossible, classes were mostly online, and internships were limited. Deferring for a year would hopefully make it possible to deliver a more complete NGU experience to the students.
During the intervening year, the students who had been admitted in 2020 moved on with their lives and found other opportunities in their home countries. Recruiting new students turned out to be impossible as Ms. Merdani still could not travel to partner countries. "I couldn't responsibly recruit scholarship students without ever meeting them in person," she explains. "Relationships are so important in those cultures and our pipeline of international students is based on relationships—with partners and with students." 
Later this year, NG team members hope to travel to East Africa. The main goals of the trip are to strengthen contacts with partners and to meet potential applicants. After a two-year pause, the team is eager to bring in a new class of students as broad and diverse as the experiences available at NGU.