Inflation Has Hit The Country
April 2022
Nehemiah Gateway Albania seeks to alleviate the plight of families in need at a time of soaring living costs.
These bags are filled with things people need-staples like cooking oil, pasta, rice, beans, coffee, sugar, and soap. Aid parcels have been a part of NG's operations since the early 1990s, when young church volunteers got commercial driver's licenses so that they could drive stacks of banana boxes filled with staple goods to Pogradec in trucks. Since that time, hundreds of thousands of aid parcels have been distributed to people in the communities NG serves.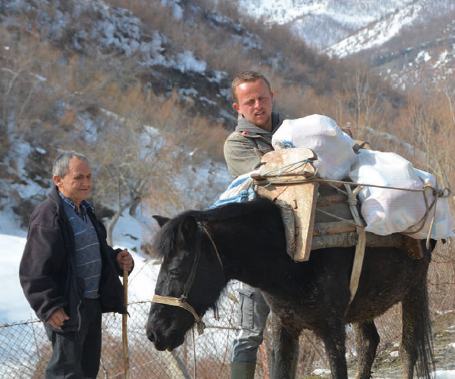 Spring is at the doorstep in March, but snow still makes the transport
of aid parcels a challenge in the Albanian mountains.
Some parcels make their way to the villages around Pogradec in the backs of NG's most rugged vehicles. Others go home with students at Amaro Tan and Gjirokastër, so that these often-overlooked families have enough to eat. When there is a crisis, the need expands, and the team finds a way to distribute more.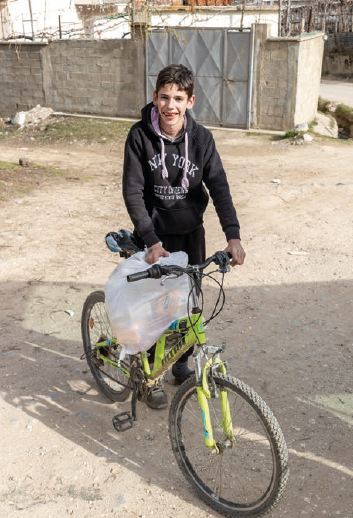 Another means of transport - this boy was sent to pick up aid parcels
for his family by bicycle, and seems to be quite happy with it.
Recently, inflation has hit the aid program. In March 2021, aid parcels distributed to the villages cost €12 each. In March 2022, the same parcel costs €17- and prices seem to be increasing every week. That means that supplying aid parcels to people in need in 2022 will cost at least 50% more. Even before the start of the war in Ukraine, the official inflation rate in Albania was 3.7% - about the same as Germany. As NG Albania Executive Director Herolinda Shkullaku explains, the important thing to remember is that, though the inflation rates may be similar, people in the EU spend about 15% of their income, on average, on food, while in the US it's about 10%. Albanians spend 41%. This means that under inflation, even Albanians who have good, steady employment must spend a higher percentage of their money necessities
As one Pogradec resident observed, "non-food markets are almost empty. People aren't buying clothes because they have to spend all their money on healthcare and food."
Society's most vulnerable people, including people who are old or sick, and marginalized communities such as the Roma, can quickly be pushed into crisis. Inflation quickly eats away at their ability to meet their most basic needs. Program managers in Pogradec and Gjirokastër report that these communities are anxious and afraid, because their situation is already bad and it could possibly get worse.
War in Ukraine has added shortages of essential commodities to the mix. Before the war, Albania imported about half of its wheat from Russia and Ukraine. That supply has been disrupted. The costs of natural gas-used in Albania for heat and for cooking-have gone up by 50%. And the cost of petrol (gasoline) is rising more every day. As of March 10, with petrol prices at 2,40€/liter, protests were erupting all over the country. At the time of the writing of this article, the Albanian government has set up an Administrative Council to manage these price increases. With the minimum wage in Albania approximately €240/month, the current rates are unsustainable for most Albanians.
Even large, stable operations like Nehemiah Gateway's Buçimas campus, with its energy efficient, wellbuilt buildings, are having to look carefully at places where there are opportunities to conserve. Trips to the villages, or to Tirana, must be planned more carefully and efficiently because they cost substantially more now. And, as cold weather has persisted, NG has responded to gas rationing by having people move into smaller, shared spaces to work, or work from home. Eri Geiger, who is Head of Facilities Management at Buçimas, is pragmatic. "Our concern is mostly logistical and administrative," she says. "We are not panicking over all these changes. NG has been through a number of crisis situations in the last thirty years, and our planning reflects that."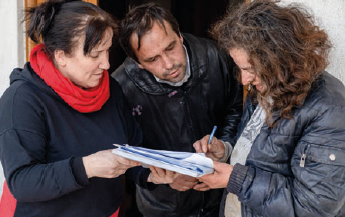 Families are gratefully signing their receipts for much-needed food support.
Still, many Albanians remember times of economic instability and rapid inflation, and this situation must feel terrifyingly familiar. While NG is committed to our staff, as well as to the people we serve-students, program beneficiaries, and community partners we recognize that there are challenges on the horizon and are determined to remain a safe and reliable force in the community.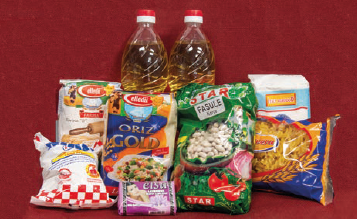 Here's what NG's aid parcels mostly contain: basic staples
that help people in need to survive.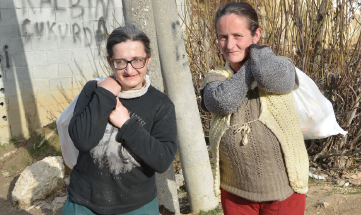 Herolinda Shkullaku commented that "as an Albanian who grew up under communism, I have an allergic reaction to talk about "producing everything ourselves."" That was the policy of the xenophobic Hoxha regime, and everybody was hungry and poor-not good times. Still, efforts over the years to make operations on NG's campus more self-sufficient and selfcontained will hopefully help mitigate some of the powerful forces rocking the region. A teaching garden on land by the lake produces supplemental food in the summer, reducing the amount of produce (as well as eggs and honey) that need to be purchased. "We probably need more of that," Shkullaku says. Fresh, local, organic produce is a wonderful thing, and may go some way to offsetting the impact of inflation on NG's food budget. The Nehemia School cafeteria and adjacent L'Aurore Caffe produce a combined 700 meals daily for school and university students, staff, and soup kitchen clients, so this is a substantial ongoing cost.
As Executive Director of NG Albania, Shkullaku is thinking past the immediate situation. "This may sound strange when we have been talking about the economic situation," she says, "but I do want to emphasize that education is our long-term investment in a solution. That is truly the way that we can build a better Albania and a better world-by providing quality education, training leaders with the ability to make a real difference. Humanitarian aid helps people get through difficult times. Education empowers people to shape and determine their lives, and school provides a safe and stable place for young people during times of turmoil, like now.
We will always provide shortterm aid when it is needed. Right now that's what we are talking about. But I hope our supporters understand that the education programs are the long-term solution."
It's a solution that goes beyond "teaching a man to fish." People who live near one of Europe's oldest and deepest freshwater lakes may not need that lesson right now. Even as global problems originating far beyond Albania's borders challenge us all, they create both short-term needs and a renewed urgency for longer-term solutions. At NG, even as we adapt to rising prices for aid parcels, we will continue to invest in future leaders who have the skills and the values to build a world where less people need emergency aid.